Emergency Garbage Disposal Missouri City Texas Available 24/7!
Countless homeowners experience problems with their garbage disposal because they don't adequately maintain it. Our plumbers will fix any problem and show you how to prevent it in the future. Without proper upkeep, your beautiful new kitchen sink can quickly go down the drain. Our team has helped keep sinks working well all over Missouri City.
Service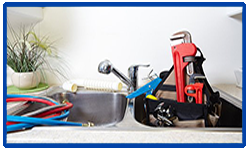 Don't go too long without cleaning garbage disposal. At best, it will begin to smell. At worst, it could stop working altogether. Our plumbers can bring your kitchen back to life. Don't trust your investment to mail-order cleaners or second-rate plumbers. When you have a problem, call the experts that more people in Ft. Bend and Harris Counties trust. We have experience at replacing garbage disposals without massive disruption to your kitchen. We carry a wide assortment that should fit just about any sink. You won't have to re-do your entire kitchen because of a problem with your drain. Our team can come in, remove your old sink, install the new one, and be on our way in just a few hours.
Rely On Tools And Technology
It takes more than just a wrench to fix garbage disposal. You'll need an understanding of both plumbing and electrical work. That's where we come in. We'll check components and connections to make sure that your sink operates effectively and safely. We'll replace anything that's broken, and test it all before we leave. We've been installing garbage disposals in Missouri City for years. Homes throughout Harris and Ft. Bend counties are equipped with quality, durable, and safe sinks thanks to our handiwork. You'll be able to tell the difference. It'll operate quieter and more calmly than anyone else's. And we back all of our work up with a competitive warranty.