Emergency Drain Cleaning Missouri City Texas Available 24/7!
Plumber Missouri City TX is the best at drain cleaning in all of metropolitan Houston. Nobody else in Harris or Ft. Bend Counties has the equipment and experience to clear out your drain pipe as effectively as us. Nobody else comes close to our prices, either. Contact us whenever you have plumbing needs, 24 hours a day, 7 days a week.
Service
Don't Do It Yourself!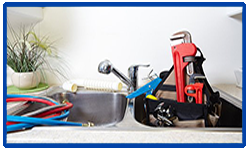 Frustrated with a clogged drain? Don't buy expensive and damaging chemicals! Home drain cleaning remedies may solve your problem, but they can cause others in the future. Our team will use safe specialty tools to remove the blockage without doing damage to your plumbing. Our team brings a delicate touch. You won't be calling us in a few months for a more costly repair. Our team uses special environmentally safe chemicals to break up a blockage in your pipes. Our formula won't damage or corrode your sink, either. Hundreds of satisfied customers throughout Missouri City can tell you that your sink will be draining in no time. Don't use just any drain cleaning chemicals. Trust our proven formula.
We'll Find A Solution
And if our sink-safe chemicals can't do the job, our technicians have access to advanced handheld snake tools to help unclog your drain. Our experts know how to operate the snakes in a way that won't do permanent damage to your sink, either. No matter what we have to do, we'll solve your problem. Our drain cleaning track record is bigger than Texas! Astros, Rockets, and Texans fans rely on us to solve their blocked drain problems quickly and cheaply. We're the drain cleaning experts. Our team has the tools and knowledge to solve any problem you may have. Join the legions of satisfied customers throughout Ft. Bend and Harris Counties! Nobody in Missouri City TX does it better.